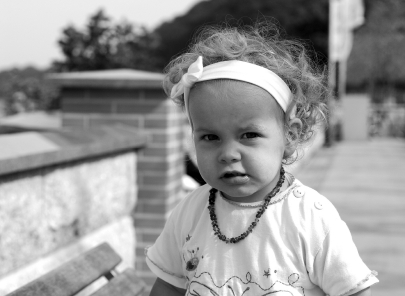 Amber Necklace for Teething have become popular alternative treatment for teething children. And with good reason. Associated with sunlight and warmth and attributed with reducing inflammation and boosting the immune system, Baltic Amber is the perfect natural remedy for anyone who wears it.
The composition of Amber Necklace Teething involves a carefully rounded natural Baltic Amber beads. Multistrand threads that are knotted between each bead to ensure that the Amber beads will never scatter should the necklace come apart. The Amber Necklaces are completed with a plastic Screw Clasp for closure. Most important, Amber Necklace Teething are designed for wearing and never to be put into a child's mouth. Teething necklaces should be removed when child is sleeping or unattended!
So why Amber Necklace for Teething are so special. Natural Baltic Amberpossesses one of the highest concentrations of Succinic Acid that can be found in nature. It is the active "ingredient" in the composite of plant and animal tissue that have come together within the fossilized resin. It is the primary driver of such profound and beneficial effects on the human body in its ability to heal and eliminate pain.
Nobel-prize winner Robert Koch (1886), the pioneer of modern bacteriology, proved that Succinic Acid has a very positive influence on the human body. In the 1930's and 40's, European biochemists discovered that Succinic Acid is an amino acid created naturally in every cell of the body capable of aerobic respiration, participating in the citric acid - or Krebs cycle. This is how carbohydrates, fats, and proteins are metabolized into energy.
Directions for use Amber Necklace for Teething

Place Amber Necklace Teething against the skin and fasten. Every Amber Necklace for Teething fastens with a Screw Clasp that opens and closes easily. We recommend that you tuck the necklace inside the children's top so it maintains skin contact but also provides less of a distraction which can result in pulling or tugging on the necklace.
Please always supervise your child when wearing amber necklace just as you would monitor their involvement with anything else.
Amber Necklace for Teething are designed to wear - not to chew - so your oversight is most important. As an additional precaution, you should also frequently check the necklace before and after wearing to ensure its integrity.
WHEN THE JEWELLERY IS NOT BEING WORN, IT MUST BE KEPT OUT OF REACH AND SIGHT OF CHILDREN.
Learn more about amber teething necklaces.
What is an Amber Teething Necklace.

How to buy an Amber Teething Necklace.
Amber Teething Necklace Size Chart.

Ready to buy Amber Necklace For Teething.

Then this information is a MUST READ! In the market there are many imitations of Baltic Amber. Imitations have no value to the relief of teething pain in children, so be very careful what vendor you consider, online or otherwise.
Genuine Baltic Amber is over 45 million years old and precious. Baltic amber contains anywhere from 3-8% of succinic acid, a scientifically examined medical substance used in contemporary medicine. The highest content of the acid is found in the amber cortex - the external layer of the stone.
Learn more How To Recognize Real Baltic Amber.
Why buy from Amber Artisans.
Amber Artisans supervise every step of a transaction, we work with only real Baltic Amber and create necklaces and bracelets specifically designed to wear for pain relief and healing. We do understand the importance of that construction and their standards are the highest in the industry in keeping with their ancestors' tradition. A source you can trust.

Important!

Each bead is 100% Baltic Amber. The color of Amber beads in our Amber Necklace for Teething may vary from necklace to necklace due to each necklace being hand made from natural materials.

Sincerely

Amber Artisans

E-mail svajunas@amberartisans.com

Disclaimer: The material provided on amberartisan.com is for information and educational purposes only and is not a substitute for medical treatment or diagnosis. We assume no responsibility for treatment or cure of any illness or disease.