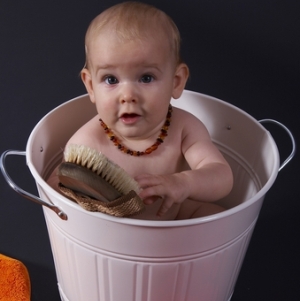 Amber Artisans applies diligent skill and expertise to creating Amber Teething Necklace that are safe for your little one as well as long lasting. To ensure proper, secure wearing, our Amber Teething Necklaces have a tight twist Screw Clasp as well as safety knots in between each and every bead to prevent breaking. Should the necklace experience extreme pressure or force, the string will break but the Amber beads will not be disconnected from the necklace except at the exact point of the break. To prevent such an incident, we recommend that you monitor your child at all times when wearing Amber Teething Necklace.
Our Amber Necklaces are handmade of the highest quality Baltic Amber and each bead is also a perfectly rounded sphere so that the necklace can remain in contact with your child's skin whenever it is being worn.
More good news about Amber Necklace: unlike medications you would get from a pharmacy, our necklaces are a perfectly natural homeopathic remedy so there is no need to be concerned about what the "dosage" is or "side effects. The "all natural" healing your child will experience is something that will give both of you complete peace of mind.
It is very important that you follow the safety advice provided below.
*Do not allow the child to chew on the Amber Teething Necklace or play with the jewelry, as the jewelry is for wearing only.
*Please supervise your child at all times while wearing the necklace.
*Remove Amber Jewelry from the child when they are sleeping and when the child is unattended or unsupervised for even a short period of time.
*Don't allow your child to tug excessively on the Amber Necklace, as this will stretch and weaken the string over time.
*Monitor the Necklace for signs of damage. If your Necklace looks like has become damaged, please discontinue use immediately.
*For best effect, keep the necklace underneath the clothes against the skin.
CARE INSTRUCTIONS
*If your necklace becomes dirtied (such as food, etc) to clean your Baltic Amber, use a soft flannel cloth dampened with clean lukewarm water. You should dry your amber very carefully, lightly polish with clear olive oil, and then remove any excess oil and restore the polish with another soft cloth.
*Be sure to keep perfume or hairspray and similar chemicals away from your Amber and never place your jewelry in commercial cleaning solutions.
*Remember to be careful when cleaning, Baltic Amber has an approximately Mohs Hardness Value of 2.5, which means it's a very soft gemstone, and can be scratched.
*Please remove Amber Teething Necklace for bathing and swimming. We have experienced that the chemicals used in swimming and spa pools and the detergents in bath soaps and shampoos are having a detrimental effect on the silk threading.
Learn more about How To Care For Baltic Amber.
Sincerely
Amber Artisans
E-mail svajunas@amberartisan.com

Please Note: Amber Artisans does not dispense medical advice.