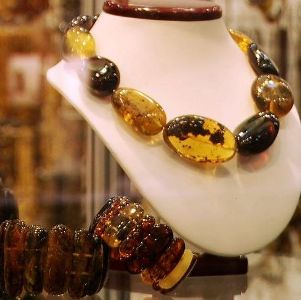 Yes, all that and more!

To understand the wondrous capabilities of Natural Baltic Amber, it's best to begin at the beginning … so put on your captain's hat, fasten your seat belt, and jump into the time machine. 10-9-8-7-6-5-…. .
You've arrived in the great forest of native pine trees in the area that is now known as Scandinavia 55 million years ago! Nearby regions of the bed of the Baltic Sea (the formation of the Baltic Sea began only 13 thousand years ago) where conifer forests grew more than 55 million years ago. The origin of Baltic Amber began with shifting in the earth and a dramatic climate change that warmed the pine trees, known as conifer, and caused them to shed their golden resin in large volumes. As the resin reached the forest floor, it merged with the soil surface as well as leaves and insects and became fossilized crystal.
Fast forward again to 13,000 years ago when the Baltic Sea was formed. As the body of water grew in depth and breadth and the basin was naturally disturbed, the contents of the basin washed to shore and natural Baltic Amber was born to the world.
As mankind evolved and the first "medicines" were discovered and employed, natural Baltic Amber took its place in history as a rare and beautiful source of Natural Healing. The primary ingredient – and key to Baltic Amber's incredibly powerful ability - is Succinic Acid, a substance also found in our own bodies that is critical to our immune systems. Amber is the only Fossil Resin containing 3 to 8% of Succinic Acid which acts as a major therapeutic substance to the human body. But enough of history. Let's explore why natural Baltic Amber is here – and in very high demand – today.
First, and most important – the supply of natural Baltic Amber is shrinking. There are synthetic variations being created that "look" good but have none of the properties that make natural Baltic Amber valuable. So if you're a collector, jeweler, or a homeopathic conscious individual, be sure to check references from your source of purchase.
If you're looking for the exotic beauty of natural gems, none is more stellar or statemental than natural Baltic Amber. And no one knows how to work with this precious substance better than amber artisans from the Baltic region who have been perfecting their craft for many generations. When you purchase an exceptionally beautiful amber healing necklace or a amber healing bracelet that is designed to grace the human form while radiating a liquid shimmer in varying colors – gold, red, deep yellow, ochre, and more, you're acquiring something of value that you will cherish and share with your future generation. And the beautiful part of natural Baltic amber is that we haven't even scratched the surface yet for the other assets of your amber…
If you're in the market for the finest natural healing substance for just about everything that ails you, you need to understand why natural Baltic Amber will be the best purchase you can ever make. From eliminating teething pain to preventing infections of the respiratory system and other vital organs, to reducing arthritic inflammation. From giving you a calm centeredness and peace to prolonging wellness and health. All of these many attributes of natural Baltic Amber are proven and the subject of numerous testimonials.
But don't take our word for it. Do your homework. Visit Google and research natural Baltic Amber. Visit the past and present contributions of natural Baltic Amber. And we think you'll want to make it a part of your future. Read more about the many Healing Benefits of Baltic Amber.
Sincerely
Amber Artisans
E-mail svajunas@amberartisan.com
Disclaimer: The material provided on www.amberartisan.com is for information and educational purposes only and is not a substitute for medical treatment or diagnosis. We assume no responsibility for treatment or cure of any illness or disease.